ShiftMaster™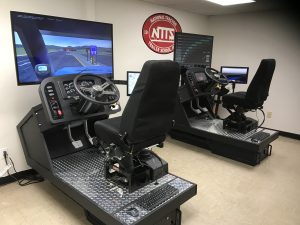 Developed by Advanced Training Systems, the ShiftMaster™ simulator incorporates various aspects of heavy truck vehicles and is the leading single-task trainer in the simulation market. Optioned to incorporate both passive and force-feedback steering and upgrade-ready for a multi-screen motion platform, the ShiftMaster™ uses an exclusive human-centered design to efficiently train tomorrow's CDL Drivers.
Technical, robust, and attractively priced, the ShiftMaster™ simulator is proudly designed and manufactured in the USA; combining machined aluminum, composite materials and tailored training software to provide a simulator platform that focuses on student retention of shifting patterns, vehicle handling, and backing exercises.
Digital Coach
Often referred to as the 'Digital Coach,' the ATS patented and self-paced approach is optimized for each individual user based on their behaviors and actions. By incorporating this patented training process, the ShiftMaster™ simulator allows students to train more efficiently and quickly without the use of an instructor for remedial basic practice and shifting. Ultimately, Advanced Training Systems' patented approach generates more confident and efficient trainees, minimizes student-instructor classroom time, and maximizes training on-the-road.
Quality Components and Technology
Precision-machined aluminum, high-fidelity displays, and military-grade electronics are all integral parts of the ShiftMaster™ simulator, and are manufactured at the highest quality to guarantee customer satisfaction and equipment longevity. The ATS ShiftMaster™ driver interface systems and their associated parts feature touch screen displays, identical tactile/force-feedback and actual tractor/truck parts. Furthermore, the ATS ShiftMaster™, TransMaster™, and FleetMaster™ simulators comprise the only simulator line featuring the ATS-patented, true-to-life transmission module.